Pedal Plane Gathering – New World Record set
Sunday 15th October 2017 Brooklands Museum Aviation Day
Following the 21st September 2015 record gathering of 15x Pedal planes at the Brooklands Museum Aviation Day, the challenge this year was to beat this record and boy did we beat it!!!.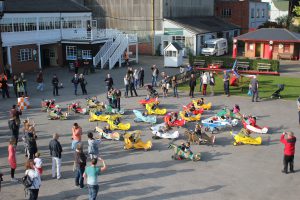 Today,at the Brooklands Museum Aviation Day on Sunday 15th October 2017, YES and its partners broke the World Record for gathering the largest flleet of pedal planes in one place.
New World Record – 24x Pedal Planes
This new record would not have been possible without the tremendous support from the following groups, and for this we are very grateful;
Thanks a million to everyone for working together to create this new world record.
Now we have to work really hard to beat the record once again at the next Brooklands Museum Aviation Day.
See www.facebook.com/Yesflyers for some pictures.
Do you have a pedal plane or know of one and if you want to bring it along and help beat the 2017 record?.
If so, please contact the Pedal Plane World Record organiser Andre Faehndrich@ntlworld.com