UK sets World Pedal Plane Record
                        Sunday 15th October 2017
                                   Brooklands Museum Aviation Day, Surrey, England
You may recall that YES set up the world pedal plane record of 24 pedal planes at the Brooklands Museum Aviation Day on 15th October 2017;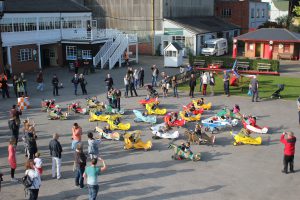 USA aims to beat World Pedal Plane Record
                       Wednesday 25th July 2018
                                    EAA Airventure 2018, in Oshkosh Wisconsin, USA.
On Wednesday 25th July the EAA will attempt top beat the UK record, by a small amount, and hopefully this will be ratified by the Guinness Book of Records.
YES will attend the event with a UK entry – a lovely Pietenpol (see below) – one of the aircraft that helped set the 2017 record.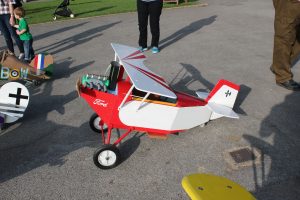 Built as a demo pedal plane by the very talented David Oswald (part of the amazing Joystick Club at White Waltham).
Andre Faehndrich of YES and fellow nutter Mark Willis from Dublin, will embark on an epic journey starting on Monday 23rd July from Luton,England, flying Ryanair to Dublin Ireland, and then they will be flying on Aer Lingus to Chicago-O'Hare, with the dis-assembled Pietenpol, to arrive at Oshkosh at 09:00 on the Wednesday, and then take part in the record attempt at 17:30.
Sponsorship being sought – can you help please?
We are seeking sponsorship for the flight and transportation of the Pietenpol to the USA, and so far we have been very lucky for the following individuals and Groups for their sponsorship and support; without whom this trip would not be possible;
If anyone else would like to sponsor us on our visit to Oshkosh, we would be delighted to include your Logo or Name on both sides of the pedal plane, which will also be emblazoned with UK and Irish Flags.
If you want any further information, then please e-mail Andre Faehndrich
UK to set new World Pedal Plane Record – Sunday 16th September 2018 at Brooklands Museum Aviation Day, Surrey, England
We already have some extra pedal planes in build, and a few other who want to help us get the record back.
So once again, if you want some more information or want to bring your pedal plane/s along, then please get in touch with the organiser of this heady record attempt in the UK, and please e-mail Andre Faehndrich