UK YOUTH BUILD-A-PLANE PROJECT
AN ENGINEERING PROJECT THAT SHOWS THAT YOUNG PEOPLE CAN ACHIEVE HIGH AMBITIONS
This project involved young people from all over the UK in building a RANS S6-ES kit aircraft, and was begun during 2003 under the leadership of Captain Stewart Luck, to mark the Centenary of Powered Flight. It helped celebrate Brooklands' Centenary year and is funded through the museum www.brooklandsmuseum.com.
The plane was built in sections by young people at Lisburn in Northern Ireland, Mold in Wales, Perth in Scotland and Manchester in England under the supervision of LAA (PFA) engineering inspectors as part of a nationwide community project.
The aircraft sections came together and were assembled in the NW of England, then the aircraft was inspected to ensure it conformed to the engineering regulations, certificated for flight and began flying in the summer of 2005.
Since then the aircraft has been seen by approx 25,000 young people at events throughout the UK, including the Farnborough Air show.
It is also being flown at events and fly-ins in many parts of the country, and giving youngsters air-experience flights. The aircraft remains a testament to its young builders, a focus for the appreciation of scientific and engineering principles, and an information point for aviation sports and careers.
A second aircraft, an X-Air Hawk built by Devon Scouts and Air Cadets is now flying, www.devonstrut.co.uk , and two school groups are building planes funded by Boeing-UK, with more aircraft being planned. It is hoped further regional projects will be started as funds are raised through grants and local benefactors.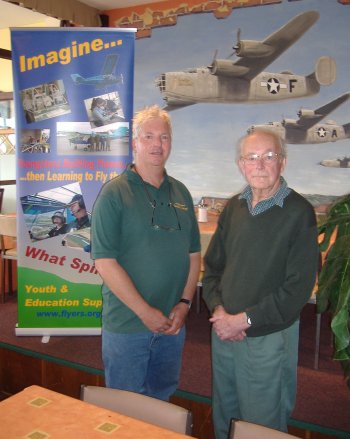 Tim Gilmour White (on the right), the sponsor of "Spirit of Devon Youth",  meets with Stewart Luck (left), the Build-a-Plane Project Director, at the Dunkeswell PFA Rally.
Tim is at the controls of the first Build-a-Plane G-TSOB, "The Spirit of Brooklands"
G-SPDY was built by Devon Scouts and Cadets.
If you would like to support similar worthy engineering projects, or would like to work on one in your area, please contact Captain Stewart Luck at Brooklands Museum, Weybridge, Surrey, KT130QN or e-mail,buildaplane@yesflyers.org.uk , or office@laa.uk.com , or contact the LAA at Turweston Aerodrome, Nr Brackley, Northants, NN13 5YD;  Tel : 01280 846 786   Fax: 01280 846 780;