CURRICULUM IDEAS
Free flights for teachers
Yes, honestly, we mean it!  We can even organise flights for your pupils.  Take a look at the LAA Education pages on Fly-a-Teacher and Young Aviators.
If your pupils are scouts, they may be able to get a local weekend Aviation Camp organised.
LAA members are only too happy to promote their hobby of flying to the next generation. Take a look at www.laa.uk.com and look up your nearest 'Strut' (= local membership branch).
You can go up for a specific aim, to photograph the area or school (though there are rules against flying low over people, animals or buildings), or rivers, agriculture, hills, industry etc, or maybe you want to enjoy the science of flight, and experience the accelerations, relative motion etc.
Aerodrome Visits
Take a look at what can be done at an airfield near you – Sywell Enterprise Day '09 or Sywell Enterprise Day '06
This is the third such day, and gets a lot of co-operation from the airfield owner and the companies working there.
Aerial Maps
Multimaps (www.multimap.com) provides aerial maps of the UK which can have the OS map superimposed on top so you can compare aerial features with roads and the contour information.  It can also be helpful for navigation to an unfamiliar destination.  See some examples and ideas below.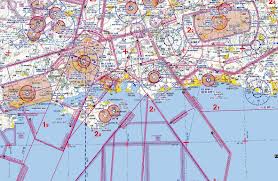 Curriculum ideas include:-
• Matching ground features to the map symbols;
• Looking for evidence of ancient settlements, old river courses etc;
• Patterns of land use;
• Local amenities – shops, pubs, post-office, wireless hot-spots etc.;
RAF  Maths and Physics CDs
Two CDs aimed at KS3 and KS4 classes, using examples of Maths and Physics topics related to activities in the RAF, introduced by RAF personnel.  Yes there is one mission involving missiles, but also rescue and relief flights, and engineering maintenance, catering, police etc.
Maths:-  covers many aspects of computation, percentage, fractions, probability, bearings and navigation etc.  Worksheets are included.  The CD is entitled RAF Maths Mission.
Physics:-  Examines Parachuting (air resistance), Airfield Lighting (electrical circuits), Aircraft Loading (levers) and Sonar (sound waves).  There are also worksheets and SC1 ideas and support materials.    This CD is called RAF Real-life Science.
The CDs and accompanying posters are available free from:-  Ed Coms, Freepost  RR59, Lakeside, Rochester, ME2 4BR
Please mention the RAF Schools Presentation Team when contacting them.