The group aims to encourage young people to take part in all sorts of activities connected with aviation, through :-
Aircraft building projects
Training in meteorology, navigation and airmanship
Air experience flights and Young Aviator events
Exhibits and activities for young people at aviation shows
Arranging talks and practical activity sessions for schools and youth groups
Developing curriculum and classroom support
Arranging aviation activity days for schools and aviation camps for scouts
Providing special flights for teachers
Maintaining an independent web-based aviation information centre for youngsters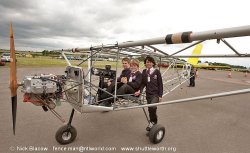 Build-a-Plane Projects
The Rans S6 Coyote II of the UK Youth Build-a-Plane Project, G-TSOB 'The Spirit of Brooklands' was built by air-cadets and scouts, and has been on display at Farnborough Air Show four times, the London Air Show twice, Fairford Tattoo twice,  Splash Microlight Fair 4 times, the National Scout Jamboree, Dunsfold, Barton, Plymouth, the PFA Rally Kemble, and many other events around the country.
The second Youth Build-a-Plane, an X-Air Hawk G-SPDY 'Spirit of Devon Youth' was been completed in 2009 and has been shown at Farnborough twice, Fairford Tattoo twice, SPLASH twice and local LAA Rallies.
Although not part of Y.E.S., the RAeS/Boeing sponsored Schools Build-a-Plane Challenge developed from the original idea of Youth Build-a-Planes and now has four build projects under way.  It uses the build as an enterprise project, emphasising the additional aspects of running a company with the plane as the product.
The organisation works closely with the Scout Association, Air Cadets and schools, maintains links with the British Model Flying Association (BMFA), and others involved with Aviation Education, and receives major sponsorship from the Light Aircraft Association (LAA) Educational Trust, among others.
The website at http://www.yesflyers.co.uk/ is a focal point for publicising aviation opportunities for youngsters and their leaders, and there is also a Yahoo group for further resources and information at http://groups.yahoo.com/group/laa-yes for which registration is required.
Further information can be seen at http://www.youthaviation.net/