Thursday 29th June 2017 – Terrific News – and well done to Boeing and the Royal Aeronautical Society,
==============================================================================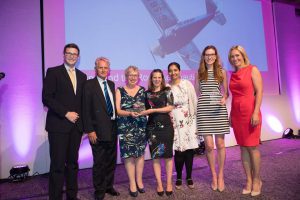 "We are delighted to write to you with some exciting news.
On Tuesday 20 June, at the Corporate Engagement Awards 2017, which recognise successful and innovative corporate partnerships and sponsorships, the Royal Aeronautical Society (RAeS) and Boeing won Gold for Schools Build-a-Plane Challenge in both categories for which the programme was nominated: Best Educational Programme and Most Innovative Collaboration.
For Best Educational Programme, SBAP was described by the judges as "a truly high-impact partnership and programme which I can imagine would have had a profound effect on the participants." In the Most Innovative Collaboration category the judges commented that it was "an amazingly ambitious idea brought to life and delivering tremendous benefits for both the students and the aviation industry broadly."
http://www.communicatemagazine.com/news/2017/corporate-engagement-awards-2017-winners-announced
Judges were from a range of backgrounds and organisations including Unicef UK, Barclays, Fairtrade Foundation and WFF-UK and we were truly delighted that the programme has been recognised in this way by such a prestigious panel from a variety of business and charity areas.
These awards would not have been possible without the dedication and support of the teachers, pupils, volunteers and parents who have been involved, the support from Boeing and the help provided by the LAA. Whether this is through active involvement in one of the school builds at Marling and Stroud Schools, Yateley School, Ercall Wood Technology College, Ernesford Grange Community Academy, Bridge Learning Campus; or local support through a RAeS Branch or LAA Strut; or providing project and risk management advice through the SBAP Advisory Group; providing the support of the secondees from the Ministry of Defence Engineering Graduates, or travelling the length and breadth of UK air shows to promote the project to the wider community.
We are so proud of you all and RAeS and Boeing would like to express our heartfelt thanks to all of you and realise that this recognition would not have been achieved without your hard work and dedication to the project.  The programme is truly a team effort and this award is as much yours as ours.
With gratitude and thanks,
Ros Azouzi and Rupinder Pamme
—-
Rosalind Azouzi
Head of Skills and Careers
Royal Aeronautical Society
T: + 44 (0)20 7670 4325
M: + 44 (0)7824 512941